We recognize that each person is on their own unique spiritual journey. At Unity of the Valley Spiritual Center we honor that journey and are here to support you in knowing and expressing your Christ Nature. Please let us know how we can support you.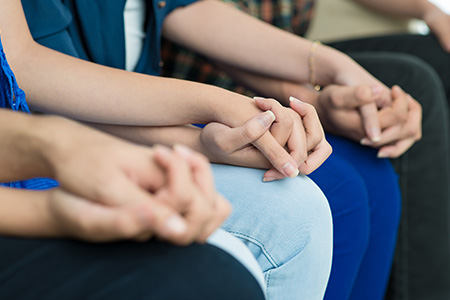 Baptisms/Christenings - Unity believes that spiritual baptism/christening signifies the inflowing of the Holy Spirit within an individual.  The ceremony is designed to honor the Christ Nature within the individual and bless them as beloved children of God. We offer christenings during our services 2 to 3 times a year. We offer private christenings in the peace chapel any time it is available and a minister is willing. | For more information contact Rev. Dalia Adams at 707-447-0521
Counseling - Rev. Dalia Adam's  services  are based upon a commitment to the spiritual principles contained in Unity's teachings. In keeping with these principles, she honors the presence of the Christ within all people.  She is committed to creating a safe and loving environment in order to foster and nurture the personal, emotional and spiritual growth and development in those she serves. She believes that the Christ Nature within each individual provides the potential for the guidance, understanding the answers we seek. Rev. Dalia is  dedicated to assisting each person with bringing forth into expression the unlimited potential that exists within them. 
Getting started with spiritual counseling - If you would like to receive support from a member of our spiritual counseling team, please contact them at the phone numbers provided. There is no requirement of membership in Unity Church of Overland Park. However, as a part of the commitment to the spiritual counseling relationship, attendance at the Sunday celebration services is encouraged. Sessions are offered on a love offering basis – up to a maximum of 3 sessions. If more than 3 sessions are desired, mutually agreeable arrangements will be decided upon between you and Rev. Dalia.If you have any questions please contact Rev. Dalia Adams at 707-447-0521
Hospital Calls and/or Visits - Our ministers and prayer chaplains are available to visit with you during times of hospitalization. | For more information contact Rev. Dalia Adams at 707-447-0521
Memorial Services - Unity of the Valley Spiritual Center  is here to lovingly support you during times of sorrow and loss. We emphasize the eternal life of the spirit.   For more information or to arrange a memorial service for a loved one who has passed on, contact Rev. Dalia Adams at 707-447-0521
Prayer Chaplain Visitation Team - Our Prayer Chaplain Visitation team is available to offer monthly visits to those in our spiritual family who can no longer attend our Sunday celebration services in person. Members of the team offer monthly visits to congregants that focus on offering a time of loving connection, prayer and fellowship. | For more information contact Rev. Dalia Adams at 707-447-0521
Weddings, Holy Unions or Re-statement of Vows - We perform services in our beautiful sanctuary or we can perform them at a venue of your choice. | For more information contact Rev. Dalia Adams at 707-447-0521